Thanet councillor Mike Harrison denies homophobic Facebook post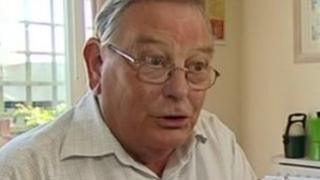 A Kent councillor has been accused of using offensive and homophobic language about a fellow council member on the social networking website Facebook.
Thanet councillor Mike Harrison was accused of a gross breach of conduct by Tory council leader Bob Bayford.
Ian Driver, whom the comments were believed to refer to, has said he will make a formal complaint.
Mr Harrison said his Facebook account had been hacked into in an attempt to discredit him.
'Strong opinions'
He said: "I'm renowned for having strong opinions and voicing them but there are ways of voicing strong opinions and that's not the sort of language I'd use in a public forum."
And he added: "I just think it's an attempt to discredit me."
Mr Harrison also posted a comment on Facebook which said the remarks had been inserted into a conversation about fishing.
The remarks that sparked the complaint apparently used offensive comments about the prospective chairman of a committee and were made in a public forum.
The post from Mr Harrison said he thought he might have been "fraped" - a term for when someone edits Facebook without permission.
He said: "I have seen a copy of what purports to be part of a conversation between me and a friend on here.
"We are talking about fishing (what else) bar-b-q's and my upcoming holiday, why on earth would I suddenly insert into that conversation some pretty unpleasant remarks?"
Mr Bayford has sent letters to three Thanet councillors calling for "immediate and decisive action" over the incident, to demonstrate their commitment to equality issues and acceptable standards of behaviour.