Chatham bus station danger drivers filmed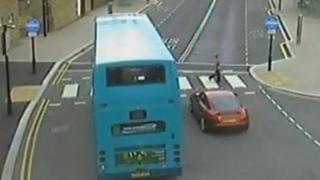 Video of motorists driving dangerously and at speed through a Kent bus station has been posted on a council website.
More than 90 vehicles a day are using Chatham bus station and Waterfront Way as a shortcut, Medway Council said.
Some have been filmed overtaking buses dangerously and driving over pedestrian crossings when people are using them.
The local authority said the motorists were causing a danger to the 60,000 bus passengers a week who walk through the bus station, including children.
The clips include shots of one car trying to overtake a bus just before a pedestrian crossing and using the wrong side of the road, several vehicles failing to stop or slow down for pedestrians using a crossing, and cars driving dangerously between stationary buses.
Robin Cooper, director of regeneration, community and culture, urged people who did drive through the bus station to look at the footage in the hope they would realise what they were doing was dangerous.
He said automatic number plate recognition cameras were in place at the bus station and Waterfront Way, as well as road markings and 15 warning signs to show the area was only for buses, taxis and bicycles.