Col Tim Collins quits Kent police commissioner race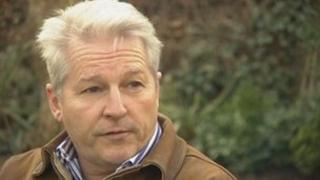 Col Tim Collins has withdrawn from the contest to become Kent's first elected police and crime commissioner.
Col Collins, who became known for a stirring eve-of-battle speech to troops in the Iraq War in 2003, had applied to become the Conservative candidate.
But he has now told party managers he will be unable to attend all of the necessary selection meetings.
Canterbury Conservative MP Julian Brazier said he was disappointed.
Kent Conservatives are due to choose three candidates from a shortlist of six at a selection meeting next weekend but Col Collins has told party managers he cannot attend.
'Part-time role'
Col Collins, whose availability for the role was limited by existing work commitments, had said in February he saw the job as a part-time role.
However, Ian Pointon, the chairman of the Kent Police Federation, which represents rank and file officers, had said the idea that the job could be done part time was nonsense.
Mr Brazier, who is organising the hustings for Kent Conservatives, said the party still had a a strong list of applicants.
"Obviously I am sorry that a high quality candidate has withdrawn," he said.
"The selection timetable is a demanding one.
"It involved four separate dates in quick succession and he (Col Collins) was unable to do all of them so we couldn't accept him as a candidate, sadly."