Paul Carter pay error costs Kent County Council £20,000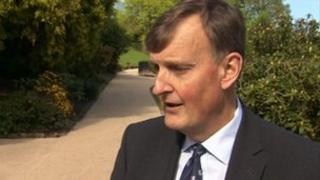 Human error is being blamed for a mix-up over payments to Kent County Council (KCC) leader Paul Carter which cost the authority more than £20,000.
Allowances of £21,398 intended for Mr Carter for a period of seven months were paid by mistake to a maintenance fitter with the same name.
KCC managed to recover only £769 from the other Paul Carter, who worked at Aylesford Commercial Services Depot.
The council said the employee left the UK and it had been unable to trace him.
The payments were made in error to the maintenance man, then aged 54, from September 2007 to March 2008.
KCC said the mistake arose when a member of staff inadvertently entered a change of bank details from leader Paul Carter on to Commercial Services Paul Carter's record.
'Not quite right'
It was discovered in April 2008 when the council leader's secretary in his private office noticed that his overdraft was near its limit.
"My secretary and my own office suggested to me that I needed to rein back on expenditure," said the council leader.
"Clearly, things weren't quite right and I asked her to check that my allowance for being leader of Kent County Council had hit my personal bank account and it hadn't.
"It was a payroll error within KCC. Clearly there was an employee of the authority by the name of Paul Carter and my allowance was mistakenly paid into the other Paul Carter's account."
KCC said that as soon as the error was identified, it deducted £769 from maintenance man Paul Carter's net monthly salary of £1,600, but was unable to recover the rest of the money because he resigned and left the country.
He is now believed to be in Eastern Europe.
"KCC always undertake to fully recover any overpayment made via the payroll regardless of whether the individual remains employed or not," it said.
"In this case we followed our normal procedure and informed Debt Recovery to continue with the full recovery of the debt.
"Unfortunately Mr Carter left the country and we have been unable to trace him.
"We will still continue to re-establish full recovery of this debt if possible."