Repairs for replica Bronze Age boat after Dover launch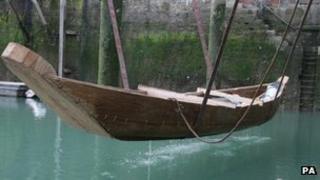 A replica Bronze Age boat made in Kent is being repaired after it started to sink on its first voyage.
The vessel, which is called Boat 1550 BC, was lowered into Dover Harbour on Saturday but started to leak before it could get under way.
The boat, which has taken three months to construct, is made of wood and is half the size of the original boat unearthed in Dover in 1992.
The way the planks were joined together is thought to have caused the problem.
William Stowe, from Canterbury Christchurch University which is co-ordinating the project, said: "The guys who were building the boat were working to the small hours of the morning the night before and the night before that and they were behind schedule.
"They weren't able to do the water testing that they wanted to.
"It was very exciting watching it go into the water but when it started to leak I don't think all of us were completely surprised. It was a shame."
A team of specialist archaeologists built the vessel on the Roman Lawns at Dover Museum.
The replica boat will form the centrepiece of an exhibition which opens in Boulogne-sur-Mer on 30 June. In December the boat moves to Belgium and returns to Dover in July 2013.
The original 3,500-year-old boat was excavated by the Canterbury Archaeological Trust near to the museum.
The project is supported by the European Union and brings together seven partners from Britain, France and Belgium.
.