'Facebook troll ruined memories of Charlotte Porter'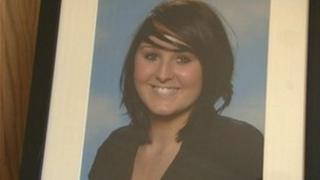 The parents of a Kent teenager who died two years ago say her memory has been "destroyed' by abusive online messages.
An internet "troll" posted offensive comments on Charlotte Porter's Facebook memorial site a year after death of the 17-year-old from Maidstone.
Sean Duffy, who was jailed in 2011 for posting other malicious messages, later admitted targeting the Porter family.
A government spokesman said: "So called 'trolls' who send abusive messages are breaking the law."
Charlotte died in 2010 from deep vein thrombosis and a tribute website was attacked a year after her death.
Her mother Beverly said: "Things like 'come and join me here in hell in my swanky new pad'. It just carried on and on and on."
Kent Police said it investigated the sending of abusive messages.
'Destroying families'
Ch Insp Jon Bumpus said: "In September 2011, following an investigation by another police force, a man called Sean Duffy was sentenced to an 18-week prison term for posting malicious messages on an internet forum and admitted targeting the Porter family."
Mrs Porter said: "He's destroyed memories."
"People like this can't be allowed to get away with doing this to families and destroying families. It's just not acceptable."
The Department of Culture, Media and Sport is responsible for policies aimed at preventing cyber bullying and "trolling".
The spokesman said: "The CPS brought over 2,000 prosecutions under section 127 of the Communications Act 2003 last year and two individuals were jailed for "trolling" in 2011.
"The fundamental principle for internet hosted material is that what is illegal off-line is also illegal on-line."