Gillingham Football Club in new Chatham supermarket row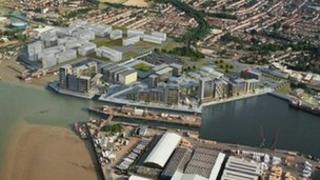 Gillingham Football Club's plans for a new stadium in Medway are at risk if a new supermarket in Chatham gets the go-ahead, its chairman says.
Paul Scally has written to every local councillor urging them to reject plans for a new supermarket at Chatham Docks.
The Peel Group's proposed development includes homes, shops and offices near the River Medway but it rejected plans for a new football stadium.
A Peel Group spokesman said it was not financially viable to move the club.
The League Two football club had proposed two alternative locations for a new stadium - Chatham Docks and the Mill Hill area of the town.
James Whittaker, from the Peel Group, said: "We have tried to assist in the relocation of the football club."
"He [Mr Scally] was estimating that would be in the Premiership within two years, and actually rather than going into the Premiership they've gone down a league.
"I understand the attendance is about 5,000 so it can't be a capacity issue. I don't understand the reason now for a complete relocation."
Premiership 'aspirations'
But Mr Scally said: "Football clubs and stadia don't get constructed without an enabling development, and this is the key to the whole issue."
He said a new Asda supermarket at Chatham Docks would mean that the club's plan for a stadium at Mill Hill with retail facilities would not get planning approval.
"All the facilities that they have included in their proposal and planning application are the facilities that we had planned in the stadium and around the stadium, that would not only enable the stadium, but would create the same number of jobs."
"If members do agree to grant the [Asda] planning application the enabling development that would be required to build a stadium in Medway would be lost.
"We have never made representation that we would be in the Premiership within two years, it has always been an aspiration of the club."
He said access to the club's Priestfield stadium was difficult and the out-dated stadium did not attract supporters to matches.
"We can't expand the club any further," said Mr Scally.