Shot Falklands veteran Steve Tuffen describes recovery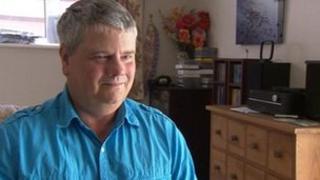 When paratrooper Steve Tuffen was lying on the ground after being shot twice in the head during the Falklands Conflict, he was not expected to survive.
Then aged 18, the soldier was injured during the battle of Goose Green in 1982.
He had to wait four hours for help because he was too close to the enemy and too exposed for any rescue attempt to be made.
His wounds were so severe, medics who came to his aid described his shattered skull as like a boiled egg that had been hit with a spoon.
But the fact that he had already lived for an hour meant he had a slim chance of survival.
Now 48, the former soldier has been recounting his experiences in the run-up to the 30th anniversary on Monday of the start of the Falklands War.
Recalling his rescue, he said: "They actually took my helmet off and the brains fell down the back of my neck, so yes, I'm a lucky guy.
"Then again you have to just adjust and adapt to these things afterwards."
Mr Tuffen was brought back to the UK where he had a series of operations that partially restored his sight, but he is still registered blind.
He said: "The first time I realised there was a major problem was after the operation in the Maudsley Hospital and I saw raindrops for the first time.
"People must have thought I was mad, I was saying 'I can see raindrops'.
"That was quite an experience. It's only afterwards you realise how ill you have been.
"At the time your body just concentrates on getting better."
And he said at one stage he did not even realise he had a head wound.
He said: "I went to scratch my head and there was no skull there."
The ex-soldier has rebuilt his life and is now a married father-of-two, living and working in Herne Bay.
He still remembers the soldiers he trained with who did not survive.
Mr Tuffen, who served with the Second Parachute Regiment, said: "Three of the guys that I trained with went to 3 Para and they were all killed. Two of them were 17 and one of the guys was 18 - killed on his 18th birthday."
He still insists that becoming a soldier was the only thing he ever wanted to do.
"The Army was all I ever wanted to do from being a very small boy," he said.
"I achieved my dream."