Kent's Manston Airport night flights plan 'opposed'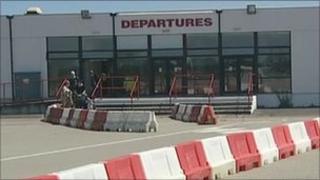 The majority of people living near Manston Airport in Kent are against plans to operate more night flights, council research has suggested.
Thanet District Council said 73% of 2,000 residents questioned were against the proposal of the owners, Infratil.
They cited potential noise levels and disturbance to sleep as their primary reasons for objecting.
Manston's chief executive Charles Buchanan said he was "rather surprised" by the results.
He said the majority of people who had contacted the airport were in favour of night flights.
'Desperately needed'
"All we are asking for is a limited, managed and mitigated amount of night-time flying," he said.
"If we are going to attract airlines that are going to provide the travel services that people want, and provide the jobs that are so desperately needed in east Kent, we must have some flexibility."
Clive Hart, the council's Labour leader, said: "I very much hope the airport will take on board the thoughts and feelings of the people of Thanet."
The airport currently deals with passenger and commercial aircraft with a runway capable of taking Boeing 747s and Airbus A380s.
Its refurbished terminal is capable of handling up to 700,000 passengers a year.
Earlier this month, Infratil announced plans to sell Manston Airport, near Ramsgate, and Glasgow's Prestwick Airport.