RSPCA inspects welfare of Ramsgate livestock exports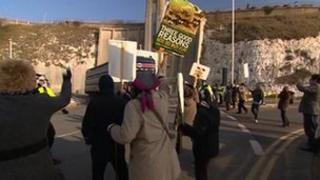 Animal welfare inspectors have carried out checks on livestock being exported from the Port of Ramsgate in Kent.
Thousands of calves and sheep have been shipped to the continent from Ramsgate since May last year.
The RSPCA said it opposed the long distance transport of animals but the livestock inspected had been deemed fit to travel.
The National Farmers' Union denies the trade is morally wrong and said it was subject to strict controls.
Britain started exporting live calves to the continent for veal and beef again in 2006, after the lifting of a decade-long EU ban imposed to prevent the spread of BSE.
Dermot Murphy, a senior inspector with the RSPCA, said: "All the animals were fit to travel. They meet the current requirements of the legislation that's in force.
"However, the RSPCA would like to see an end to the trade of exporting live animals great distances across the UK and into Europe."