Beetle outbreak in Paddock Wood 'threatens trees'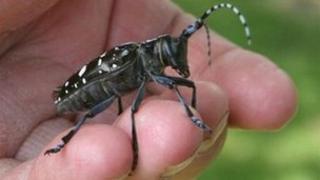 A beetle outbreak in Kent is threatening broad leaf trees and shrubs, according to the Food and Environmental Research Agency (Fera).
Larvae of the Asian longhorn beetle have been found in a poplar tree by the Forestry Commission at Paddock Wood.
Fera said the beetle is not native to the UK and possibly came into the area in wood packaging used to import stone from China at an adjacent site.
The beetles are 20mm to 40mm long, with black with white markings.
The larvae drill undetected inside the tree, eating the wood and effectively killing the plant or leaving it susceptible to disease.
Fera said this was the first outbreak of the beetle in the UK and could have severe consequences for British trees.
John Morgan, from the Forestry Commission, said: "We will need to remove any trees found to be infested and it is possible that we will need to remove potential host trees around the original site as a precautionary measure.
"Eradication measures to treat outbreaks in the US and Italy have resulted in the loss of tens of thousands of mature trees."