Kent Ornithological Society surveys nightingales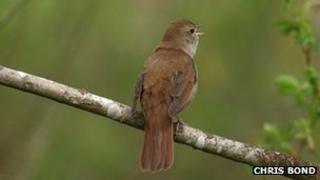 Bird watchers are being asked to count the number of nightingales spotted in Kent as the migrating birds return to the UK from Africa and southern Europe.
Surveys are being carried out across the country organised by theBritish Trust for Ornithology(BTO).
But theKent Ornithological Society(KOS) said Kent was one of the nightingale's last strongholds.
In the last census carried out by KOS in 1999, bird watchers spotted 1,212 singing nightingales in the county.
Nightingales arrive in April and sing until late May and early June. They leave again from July to September.
Volunteers who take part in the nightingale survey, which starts in April, will each take responsibility for an area of land.
They will make two morning visits when the nightingales are arriving, and then two night visits while the birds are singing, if any are found.
All singing males are then plotted on maps provided by the BTO.
'Legendary song'
A KOS spokesman said the society was also organising a series of events across Kent in May so people could hear nightingales sing.
He said: "Although Kent is a stronghold of nightingales in Britain, many people may have never heard their legendary song.
"The KOS is organising a series of events across the county in May to give people a chance to hear the melodic song of the nightingale before it is too late."
The events will be organised after the nightingales have established their territories for this year's breeding season, he added.
Figures from the RSPB said the UK was estimated to have 6,700 pairs breeding annually, with the highest densities to be found in Essex, Suffolk, Norfolk, Kent and Sussex.
When nightingales sing, they can be heard throughout the day as well as at night, the RSPB said.
The bird charity described their "famous song" as a fast succession of high, low and rich notes that few other species could match.
In Sussex, theSussex Ornithological Societyalso needs more volunteers for the survey taking place next month.