Marlowe Academy put into special measures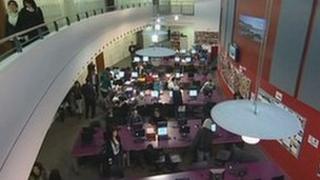 A £30m Kent academy that was rated among the worst schools in England has been placed into special measures following a damning Ofsted report.
Inspectors ranked the Marlowe Academy, in Ramsgate, "inadequate" in most areas, following a visit in 2011.
They said many year 10 and 11 pupils had a reading age that was at least two years below their actual age.
Chair of Governors Roger De Haan said there was "work still to be done" but progress had been made since the visit.
Following the inspection in November, theOfsted report said the school required special measuresbecause it was "failing to give its pupils an acceptable standard of education".
Performing arts
It said too much of the academy's teaching failed because expectations were low, lessons lacked challenge and marking did not consistently guide students on how to improve.
The only area where the school was given a "good" grade was the extent to which pupils felt safe.
The report also said the school's "lively promotion of the performing arts specialism to boost students' self-esteem" was positive.
The inspectors also noted that the school had three times the national average number of pupils with special educational needs or disabilities and twice the average number of students eligible for free meals.
Mr De Haan said a team of educational specialists were brought in shortly before the Ofsted inspectors' visit in November and standards had begun to rise.
In a letter to parents, Mr De Haan said: "It was unfortunate that the November inspection took place before this new team had had time to make an impact but we are now pleased to report that significant progress is being made.
"A further Ofsted monitoring inspection has taken place this week and the results from this latest inspection are much more positive."
He continued: "Although there is clearly still work to be done we feel we are now well-placed to build on the progress that has already been made."
The Marlowe replaced the Ramsgate School which closed after being put into special measures in 2003.
The academy was rated the sixth worst in England in GCSE performance tables in January and placed under notice to improve by Ofsted in the autumn of 2010.
It was the first academy in Kent when it opened in 2005.