Traffic ban under Westgate Towers in Canterbury begins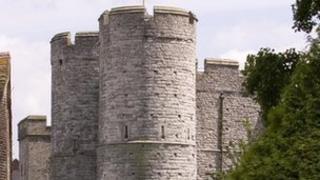 A ban on traffic passing through a medieval gateway in Canterbury has come into effect.
All vehicles are banned from going through the arch between the Westgate Towers and will be diverted around back roads instead.
The aim is to protect the towers, cut congestion and improve air quality in the whole area of St Dunstans.
The 12-month experimental project will allow the effect of the changes to be monitored at different times of year.
Councillor Peter Vickery-Jones, from Canterbury City Council, said: "Removing traffic from passing underneath one of our landmark, historic buildings has been an ambition for many years.
"We have had proposals in the past that have either not worked or not got off the ground.
"However, we now have a scheme that we believe can be successful and it is imperative we give this a real go."
Built in 1380, the archway structure is the main entrance for vehicles entering Canterbury, and is thought to be the largest surviving medieval gateway in the UK.
As part of the scheme, the road underneath the grade-I listed towers will be pedestrianised.