Cancer patient Debbie Westwick 'may die before GMC probe'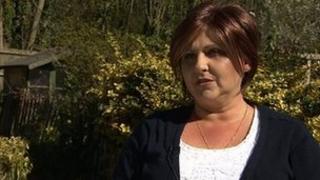 A Kent woman with terminal cancer has said she fears she may die before her complaint against her doctor is heard by the General Medical Council (GMC).
Debbie Westwick, from Canterbury, believes Dr Howard Smedley, a consultant oncologist who is now retired, gave her the wrong treatment.
She lodged a complaint with the GMC in 2009, but it still has not been heard.
Dr Smedley rejects her allegations. The GMC said it had been looking for a date, which had now been set for June.
Mrs Westwick said there was no guarantee that the GMC hearing would be held in June, because it had already been postponed once.
She said: "Obviously the danger is I won't be here."
NHS investigation ended
Her solicitor, Nick Fairweather, said: "I think the GMC have handled this appallingly and I think they have treated Debbie with something very close to disdain.
"It's so difficult for patients who are fighting doctors and fighting cancer to have to be fighting the GMC as well."
A statement issued by the GMC said: "We know that when we have to postpone a hearing it can be very frustrating for those involved.
"We have been actively working to re-reschedule this particular hearing and are currently planning to hold it in June."
Mrs Westwick, who was diagnosed with breast cancer in 2006, said Dr Smedley prescribed chemotherapy and radiotherapy instead of following the correct management protocol of a mastectomy.
Out-of-court settlement
At the time, Dr Smedley was under GMC restrictions that meant his work should have been supervised by another consultant.
He treated Mrs Westwick in Canterbury, although he was employed by Maidstone and Tunbridge Wells NHS Trust.
Maidstone and Tunbridge Wells NHS Trust said it had carried out a full investigation into Mrs Westwick's concerns and concluded there was no reason to take any action against Dr Smedley.
Dr Smedley recently applied to have his name removed from the GMC register on the grounds of ill-health - a move that would have meant a hearing would be unnecessary - but the GMC rejected this.
When the application was rejected, a GMC expert said: "[Mrs Westwick's] breast cancer was routine and did not present any particular management difficulties."
It added: "Unfortunately, he committed so many errors in management that the care provided fell below that expected from a reasonably competent consultant oncologist."
Mrs Westwick later reached a £155,000 out-of-court settlement over her care with three hospital trusts, but the trusts did not admit liability.
Dr Smedley declined to comment. In a statement, he said: "It would be inappropriate for me to comment at this time, given outstanding matters before the GMC."