Sevenoaks grammar school petition triggers council debate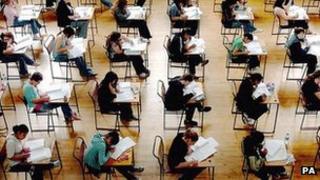 An online petition calling for the first new grammar school in Kent for 50 years has triggered a debate at a full council meeting later this week.
More than 2,600 people in Sevenoaks, which currently has no grammar school, have signed the petition.
Councillors have been recommended to pursue proposals to provide a four-form entry of selective secondary provision.
Paul Carter, Conservative leader of Kent County Council, said the proposal would get his party's support.
"At the moment there are a number of parents of young people that have passed the 11-plus with no current places in grammar schools in west Kent because of that under-provision.
"This is the opportunity to deal with the under-provision side of grammar school places and build a four-form entry - 120 places per year group - school in Sevenoaks," he said.
School annex
In November, the government introduced a legal change which allows existing grammar schools to expand.
An annex of a grammar school elsewhere in Kent could open, effectively creating a new school for the area.
Sevenoaks is the only part of Kent without a grammar school, resulting in more than 1,100 pupils travelling 15 miles to Tunbridge Wells.
Sarah Shilling, who has led the campaign which has triggered Thursday's council debate, said: "Ideally an entirely new grammar school would be great because that I think is the easiest solution.
"But because legally we can't have one I think what they [councillors] will probably do is say is we can have an annex, which will be satellites of existing grammar schools."