Canterbury Cathedral appeals to its American friends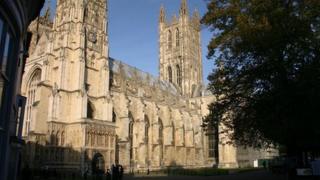 Fundraisers at Canterbury Cathedral are banking on US support to help them with the building's running costs.
Andrew Edwards is hosting a reception in New York on 23 April for about 60 of the cathedral's American friends.
The chief executive of Canterbury Gift, a charity which raises money for the cathedral, is launching a campaign to raise up to £6m in the United States.
The cathedral said it spent £18,500 on day-to-day running costs, excluding major restoration work.
Mr Edwards said he hoped the new US campaign would raise between £5m and £6m in the next two or three years.
"The United States has always had a very close relationship with Canterbury Cathedral," he said.
In 1947, a Mr Lamont from the United States wrote a letter to the Dean of the Cathedral saying he had deposited half a million dollars.
"The American supporters tend to be those with a strong interest in the UK's history and the history of the relationship between the two countries," Mr Edwards explained.
Rising entry charges
"They are usually interested in the architecture and usually have visited Canterbury."
"Very often it isn't about having names on big plaques, outside buildings.
"People don't give to the cathedral for points of vanity. They are led by the fact they want to make a contribution, they want to make a difference."
Canterbury Cathedral employs about 300 people, including stone masons and stained glass conservators.
In October 2006, an appeal to raise £50m was launched to carry out major conservation work on the building, including restoring the Great South Window and the Corona Chapel.
About 40% of the cathedral's income comes from public admission charges. The rest is from donations, rents from properties in the Precincts, and from the hotel, shop and conference centre.
In April 2012, the entry charge for an adult rises from £9.00 to £9.50 and for a child increases from £6.00 to £6.50.
Therese Heslop, the director of Visits and Marketing at the cathedral, said: "Visitor income is fairly steady and in fact has been going up every year by a few percent. Fund raising is tough, the economy is tough."
"With the Olympics this year, it'll be very interesting to see how many of the spectators come to Canterbury.
"We have to be open and look at all opportunities all the time."