RSPCA in Ramsgate live animal transport talks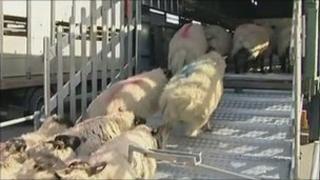 Live animal exports from a Kent port are being discussed by the RSPCA and council leaders.
Ramsgate is the only UK port used for the exports and campaigners have been calling for the trade to be stopped.
Thousands of calves and sheep have been shipped to the continent from Ramsgate since May last year.
The RSPCA opposes the long distance transport of the animals and its chief executive, Gavin Grant, is meeting the port's owner, Thanet District Council.
"The thought of living, breathing animals, some only a couple of weeks old, packed into lorries for hours on end, driven thousands of miles across Europe, sickens me," Mr Grant said.
'Vile trade'
Officials from Compassion in World Farming are also attending the meeting.
Emma Slawinski, senior campaigns manager, said: "We worked with dedicated groups in Ramsgate to raise the profile of this vile trade last year and we are determined to keep up the pressure this year.
"As we approach the first anniversary of the arrival of live exports in Ramsgate, we are more than determined than ever to help end the trade through the port."
Councillor Michelle Fenner said the issues being discussed would include how the inspections of lorries and ships are conducted by the government's agents, their assessment of the licences used by transporters and the lack of a control post in Kent in relation to animal movement issues.
"We will set up a cross-party working group to establish a course of action to push on these issues outside bodies, such as the RSPCA.
"We call on the UK Government to assist us in resolving these issues."
After meeting councillors, the RSPCA is meeting local campaigners who have been carrying out demonstrations at the port.
Thanet councillor Ian Driver and campaigner said he hoped Thursday's talks would lead to plans which "might help to put an end to this barbaric trade".