Kent student bus pass scheme approved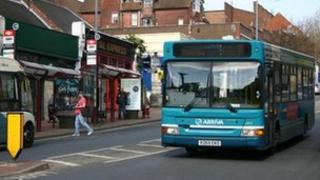 A bus pass scheme which will allow students aged between 16 and 19 to travel for £10 per week has been approved by Kent County Council.
The Post 16 Travel Card would be available through schools, colleges and workplace learning providers.
Some schools and colleges may chose to subsidise further the cost of the travel passes, the council said.
The scheme is now subject the outcome of a consultation on council transport policy which ends on 31 May.
The card will have the same benefits as the county council's current Freedom Pass for 11 to 16-year-olds and will be valid for bus journeys across the county at all times, including holidays and weekends.
Northfleet Technology College recently tested the scheme.
College spokesperson Kim Blacker said: "Preliminary indications suggest that long term it will make improvements to attendance and time keeping, especially for those living further away from school.
"It has been extremely beneficial for parents, many of who are presently struggling to pay for rising transport costs in this difficult economic market."