M20 in Kent could trial 80mph motorway speed limit plan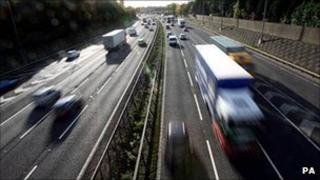 A section of the M20 motorway in Kent could be used to test a new national speed limit of 80mph.
No final decisions have been taken, but the government believes the current speed limit of 70mph is out of date and should be higher in England and Wales.
The M20 between junctions four and seven, where a variable mandatory speed limit is in place, is expected to be chosen as part of a national trial.
The Department for Transport plans to speed up traffic at quiet times.
The stretch of motorway between Larkfield and Detling has received a number of upgrades in recent years and now has extra lanes.
'Gambling with lives'
Andrew Howard, the AA's head of road safety, said: "We're glad to see that there's talk of there being a trial... and especially important, if it's planned to only do it on controlled motorways, is how they [drivers] will actually react when they leave the controlled zone and go back on to normal motorway."
However, Brake, the road safety charity, has accused the government of "gambling with people's lives" and has called on it to abandon its plans for 80mph speed limits.
Deputy chief executive Julie Townsend said it was "hard to see a logic behind a trial".
"There is a mountain of evidence that higher speeds result in more needless and violent crashes and casualties."
The government plans to launch a full public consultation on the issue this year with a view to implementing any change in early 2013.