London 2012: Kent Olympic torch relay route announced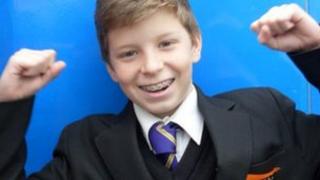 London 2012 organisers have revealed the exact route the Olympic torch will take as it moves through Kent.
Locog said torchbearers would run through a number of areas on 18, 19 and 20 July as part of a 70-day UK tour ahead of the Games.
The torch will visit Canterbury Cathedral, the Channel Tunnel and the Turner Contemporary Gallery.
Torchbearer Nathan Mitchell, 12, from Gillingham, described his selection as a "once-in-a-lifetime opportunity".
The pupil from The Howard School, in Gillingham, was chosen as part of the Olympic Get Set Schools programme.
'We are thrilled'
His teacher Andy Kemp said he had been nominated for "giving his best" at everything he does.
"We are thrilled as a school to be able to nominate Nathan in the first place and to be actually selected is fantastic," he said.
"We are looking forward to be able to cheer him on as he carries the flame."
Nathan, who represents the school in football, rugby and athletics, said he was still in shock after being chosen to carry the torch through Rochester.
He said: "I reckon I'll be feeling excited, proud and a bit nervous, but I don't know what it'll be like.
"I've been told the run is about a mile, so I may have to go for a couple of jogs beforehand."
And he said during the Olympics he was most looking forward to watching Usain Bolt in the 100m.
"I haven't got any tickets - maybe someone will give me some complimentary ones," he said.
Marathon man
Medway policeman Mel Moore has also been chosen as a Kent torchbearer.
Det Sgt Moore, who has run 82 marathons and has four more planned for April, will be carrying the flame in Maidstone.
He said: "I'm chuffed to bits.
"This is probably going to be the the slowest half a mile or so I've ever run and I'm probably going to make it the most enjoyable half mile I've ever run."
The torch will arrive in Hamstreet at 10:30 BST on 18 July to begin its journey through Kent. It will visit Dover Castle and the Channel Tunnel on the same day.
On 19 July the relay will begin in Deal before visiting Canterbury Cathedral and the Turner Contemporary Gallery, in Margate.
And on the following day the relay will start in Maidstone at 06:42 and visit Mote Park.
During the 10-week relay the torch will be carried by 8,000 torchbearers and will travel about 8,000 miles.
Locog says the torch will come within 10 miles of 95% of the population.
OLYMPIC TORCH RELAY STREET GUIDE:
Day 60, 17 July
Brighton to Hastings
[56]
Day 61, 18 July
Hastings to Dover
[48]
Day 62, 19 July
Deal to Maidstone
[56]
Day 63, 20 July
Maidstone to Guildford
[65]