Margate Tesco delay 'good news' say residents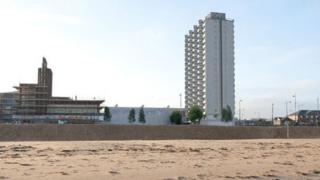 Residents opposed to a new Tesco store on Margate seafront have welcomed the last-minute postponement of a planning inquiry.
Thanet District Council said on Monday a public inquiry due to start the following day into plans for Arlington House had been postponed.
"It has got to be very good news," said John Moss, chairman of Arlington House Residents Association.
The Kent council said the inquiry was postponed by the planning inspectorate.
The steel-reinforced concrete 18-storey tower block, built in the 1960s, has boarded-up shops on the ground floor and a fenced-off former car park at the rear.
Landlord Freshwater wants to finance renovation of the tower block by developing the superstore, along with a hotel, bars and offices in place of the car park and existing empty shops.
Campaigners believe the proposed Tesco store is too big and in the wrong place.
They also fear its effect on the Grade II* listed Dreamland railway nearby. A separate public inquiry into the council's bid to compulsorily purchase the Dreamland site is due to conclude on 26 March.
Thanet's planning committee was originally expected to approve the plans in October last year but they were referred to the full council, which has still not made a final decision.
Philip Robin, planning consultant for Freshwater, said: "We did gain the council's support last summer but a number of matters have arisen since which keep extending the time period for getting the final decision."
Thanet council said that at this stage, there was no date for when the public inquiry would be held.