Homs victims helped by anaesthetic machines made by Kent man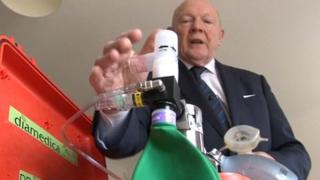 An anaesthetic machine developed by a Kent man has been sent to the city of Homs in Syria.
Roger Eltringham, a retired anaesthetist from Marden, has spent 15 years creating the simplified machine that does not need electricity and is mainly for use in developing countries.
About 1,000 of them have been sent to 46 countries, the latest sent to help the victims of the shelling of Homs.
Experience working abroad inspired Dr Eltringham to create the machine.
He said: "Although safe anaesthesia is taken for granted in this country, I became aware that for millions of people in the poorest countries the service is unsafe and for millions more it is entirely non existent.
"The consequent degree of suffering, especially for women in childbirth, is totally unacceptable.
"Even when the surgical and nursing staff are available the anaesthetic machines often cannot function because of interruptions in the supply of oxygen or electricity and the absence of skilled engineers required to service and maintain the complex electronic equipment."
A simple design
The glostavent is able to function if the oxygen fails or if the electricity fails or if they both fail simultaneously and its simple design means can be maintained by local engineers.
Dr Eltringham said: "It is based on the principals of simplicity, reliability and economy. It is a fraction of the price of a standard anaesthetic machine."
According to Dr Eltringham, an anaesthetic machine in the UK can cost about £70,000.
He says his machines cost £13,500 for ones with an oxygen tank, and £3,000 for one without an oxygen pump - oxygen can be administered manually if needed.
He said: "It has been in demand by agencies such as the Red Cross and Medicins sans Frontiers following catastrophes such as the tsunami, Haitian earthquake, and military and terrorist activities."
A charity called Safe Anaesthesia Worldwide has now been set up in Marden to raise money to send more machines to developing countries.