Women pilots celebrate first English Channel flight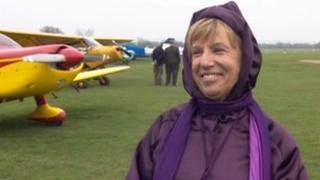 Nearly 100 women from the USA, Canada and Europe are in Kent to commemorate the centenary of the first flight by a female pilot across the Channel.
Harriet Quimby flew from Dover to northern France a year after she became the first woman to gain a pilot's licence in the USA.
Visiting pilots flew light aircraft from Headcorn Aerodrome to Le Touquet on Saturday to recreate the flight.
"This is a very important event," said history professor Dr Barbara Ganson.
Dr Ganson, of Florida Atlantic University, said: "It is always a joy to talk and to study history but I want to help make history and celebrate history.
"I'm flying the Channel - that's why I came here."
Jamie Freeman, owner of the aerodrome, near Ashford, said Ms Quimby's flight did not go smoothly.
"She found a field somewhere in Dover and took off and found a field somewhere in France," he said.
"I believe that in mid-Channel she managed a height of 6,000ft, then ran into cloud and difficulties and the engine actually started playing up.
"She lost most of her height and then managed to restart it and land on the north coast of France.
"It was the very, very early days of aviation and the aircraft were very flimsy."
Saturday's event took place as part of Women of Aviation Worldwide Week, but Ms Quimby's actual flight took place in April.
Her achievement was overshadowed in the media of the day by the sinking of the Titanic, the day before.