Explosions bringing down cooling towers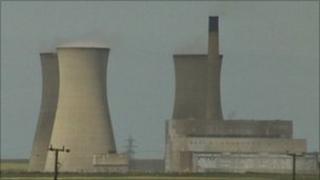 Three cooling towers and a giant chimney which have dominated the east Kent skyline for 50 years are being blown up.
Sunday's demolition at Richborough Power Station, near Sandwich, carried out by explosives experts, was expected to take less than one minute.
The 300ft (100m) towers were part of a complex which opened in 1962 to burn fuel from the Kent coalfields.
The owners of the plant want to build a green energy park on the site.
After the closure of the county's coalfields, the power station burned oil to generate electricity for the National Grid until it closed in 1996.
Most of the buildings on the site have already been demolished.
'Blame the presser'
Explosives placed round the bases of the towers will be detonated in sequence, with the chimney the last to fall.
Holly Bennett, the engineer in charge of bringing down the structures, said planning for the 0900 GMT demolition had been in progress since last summer.
"It will look very much as if somebody has let go of a clay pot on a wheel," she said.
"The towers will spiral and then fall in on themselves. They will wobble a little bit, then fold in on themselves.
"The cooling towers will almost fall in their own footprint, then the chimney will fall its full length."
Ms Bennett, who said she believed she was the only female demolition expert in the UK, said there was usually some banter among engineers over who would actually press the button to get the job under way.
"We have a bit of an internal joke that if anything goes wrong we blame the person who presses the button.
"But nothing will. I am very confident about Sunday. It will be a good morning."