Canterbury deaths prompt Julian Brazier MP's 'legal high' ban call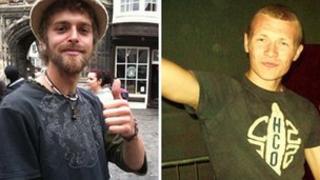 The deaths of two men in a pond has prompted a Kent MP to call for procedures to ban legal highs identified as dangerous to be faster.
Tory MP Julian Brazier said there should be a "faster procedure" once a substance is identified as dangerous.
The bodies of 17-year-old Hugo Wenn and Daniel Lloyd, 25, were pulled from Reed Pond, Canterbury, on 30 January.
Tests showed both had the legal high methoxetamine (MXE) and alcohol in their bodies when they died.
Post-mortem examinations revealed they died from drowning and police are not treating their deaths as suspicious.
Sold on internet
Mr Brazier said: "There are lots of different chemicals that will give a so-called high and catching up and classifying them takes time.
"What is needed is a much faster procedure by which when one is identified it can then be banned."
Methoxetamine has similar effects to the banned drug ketamine and has been linked to the deaths of two people in Leicestershire.
The Home Office said the substance, also known as mexxy or MXE, was being sold on the internet as "safe ketamine".
It has asked experts on the Advisory Council on the Misuse of Drugs (ACMD) for advice on whether it should be banned.
If the ACMD agrees, the government can make the substance illegal for 12 months, while further investigations are carried out.
Speaking on Tuesday, the minister for crime prevention, Lord Henley, said "just because a substance is legal, it does not mean it is safe".