Kent's Manston Airport sale 'attracts interest'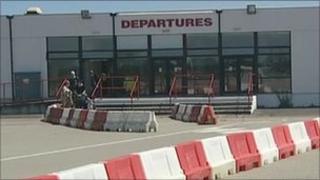 Several buyers have expressed an interest in a Kent airport that has been put up for sale, an MP has said.
Owner Infratil has announced plans to market Manston Airport, near Ramsgate, and Glasgow's Prestwick Airport.
Roger Gale said he thought Manston could play a vital role in increasing airport capacity in the South East.
Mr Gale, the Conservative MP for Thanet North, said: "You either look at this as a disaster or you look at it is an opportunity."
He added: "I'm told that there are people, more than one, who are interested.
'Enormous potential'
"Heathrow is bursting at the seams, Gatwick is bursting at the seams and we are in danger of losing our status as Europe's number one hub airport country.
"If we lose that status, it will cost the country thousands of jobs and huge sums of money, not just in tourism but in financial services and all sorts of things
"We've got to find a solution and Manston not only can be, but has to be, part of that solution."
The airport currently deals with passenger and commercial aircraft with a runway capable of taking Boeing 747s and Airbus A380s.
Its refurbished terminal is capable of handling up to 700,000 passengers a year.
Paul Carter, the Conservative leader of Kent County Council, said he thought Manston had "enormous potential".
But John Grant, the vice president of Official Airline Guide, said he thought Manston would "struggle for a very long time" unless the infrastructure surrounding the airport and transport links were improved.