Kent's Manston Airport put up for sale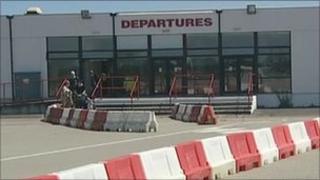 Kent's international airport has been put up for sale, paving the way for expansion.
Owner Infratil has announced plans to market Manston Airport, near Ramsgate, and Glasgow's Prestwick Airport.
PwC, which has been appointed as a sale adviser, said it was an opportunity for a new owner to take advantage of the congestion at Heathrow and Gatwick.
Infratil's attempts to expand Manston have encountered opposition from local people concerned about night flights.
Boeing 747s
New Zealand-based Infratil says the sales are the result of a decision to refocus where it plans to invest.
The airport currently deals with passenger and commercial aircraft with a runway capable of taking Boeing 747s and Airbus A380s.
Its refurbished terminal is capable of handling up to 700,000 passengers a year.
Infratil has appointed business experts PwC as advisers on the sale.
PwC partner Coolin Desai said Manston represented "a strategic opportunity for an investor in light of the well documented congestion affecting all major airports serving London and the South East".
"With a runway capable of accommodating large aircraft including 747s, there is significant potential to grow both passenger and cargo traffic," he said.
Manston chief executive Charles Buchanan welcomed the plans.
He said: "We see the arguments about Boris Island coming forward every day. We are part of the solution to that."
Budget airline Flybe announced in December, that it would be pulling out of Manston this month because flights from there were not economically viable.
Infratil has been trying to persuade Thanet Council to allow night flying at Manston to attract new airlines, enabling the airport to grow, with a consequent boost for jobs in the Thanet area.
But a report commissioned by the council suggested Infratil may have underestimated the impact of noise from night flying on residents.
The director of CPRE Protect Kent, Hilary Newport, said the planning watchdog "cautiously welcomed" the news and hoped Thanet Council would use it as an opportunity to bring the airport "under proper control".