Kingsnorth power station to close two years early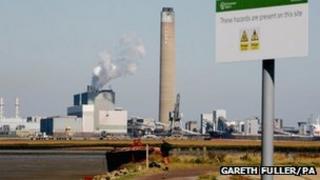 A Kent power station is to close two years earlier than expected with the loss of more than 100 jobs.
Energy company E.On, said the Kingsnorth plant would cease generating electricity in March 2013.
The station, which has not been adapted to meet emissions targets, has run out of its allocated operating hours under EU environmental laws.
The GMB union said the closure was a "blow to the economy of north Kent".
"The news Kingsnorth Power station is closing nearly two years early, and before new capacity is developed, is absolutely devastating for the local community who depend on the station for employment," the union's Phil Whitehurst said.
'Excellent location'
Dr Tony Cocker, from E.On, said the decision did not rule out "power generation" at the site in the future.
"[It] remains an excellent location for a new plant given its proximity to demand in the south east, but the original plans are no longer appropriate," he said.
Kingsnorth, commissioned in 1970, was one of two schemes short listed by the government to build the first carbon capture and storage scheme (CCS) coal units.
Protesters gathered at the plant in 2008, to campaign against E.On's plans to demolish the existing plant and build the two new coal units.
In October 2010, E.On announced it was withdrawing its plans for the new units.
Under the EU's Large Combustion Plant Directive, power stations not adapted to meet emission-reduction targets must close after generating for 20,000 hours by the end of 2015.