Thamesteel workers lobby MPs at parliament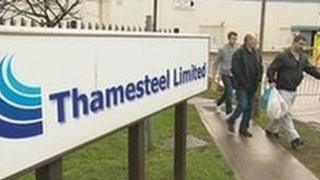 Steel workers made redundant after a Kent firm collapsed have travelled to London to lobby Parliament.
Twenty-three former Thamesteel workers and union leaders urged the government to do more to promote manufacturing and help them return to employment.
More than 350 people lost their jobs after the company in Sheerness, on the Isle of Sheppey, announced it was going into administration two months ago.
The government said it would do all it could to help people back to work.
'Worrying time'
The delegation travelled to the capital alongside representatives of The Community Union, which represents former Thamesteel staff.
Joshua Harris, 19, a former production technician at the plant, said there were not many jobs around and former workers were hoping for government support to get Thamesteel open again.
"There's a lot of guys' livelihoods at stake," he said.
A spokesman for the Department of Business, Innovation and Skills said: "This is a worrying time for Thamesteel's workforce, their families and the local communities affected.
"The government will do all it can, through Jobcentre Plus, to help get people back into work as soon as possible."
Further efforts to help the workers were being co-ordinated through a taskforce led by Kent County Council, he added.