Thames Estuary airport: Council in 'one-sided campaign'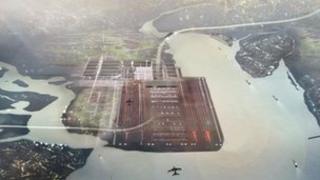 Campaigners backing an airport in the Thames Estuary have criticised Medway Council for using public funds to print opposition material.
The council has spent more than £3,000 on "Stop Estuary Airport" car stickers, posters, and badges.
Cliff Oulds, who owns a sign-writing business on the Medway City Estate, said it was "an awful lot of taxpayers' money for a very one-sided campaign".
Deputy council leader Alan Jarrett said most people were against the airport.
"If we ignore them we will be failing in our duties to the people of Medway," he said.
'Airport misery'
The council has set aside £50,000 from public funds to pay for its campaign opposing the airport, which would be built partly on reclaimed land and could be on either an island or a peninsula.
But Mr Oulds, who supports the plan for an airport on economic grounds, said the money would be better spent on "more pressing items", and the council should be trying to find a logical conclusion to the argument rather than pushing through an unbalanced campaign.
In January, an open letter to Transport Secretary Justine Greening from the four group leaders on the local authority said 76% of the UK public opposed the proposals, along with many major airline industry leaders.
Supporters of the idea, including London Mayor Boris Johnson, have said the UK needs more airport capacity.
Councillor Jarrett said: "We don't want people to gain either politically or financially from other people's misery, and that's what this airport will bring - misery for the great majority of the people of Medway."
The government's formal consultation into airport expansion will be launched later this month.