Wildlife haven status for Thames Estuary airport land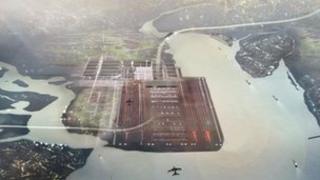 Opponents of a new airport in the Thames Estuary have welcomed a government decision to designate the land earmarked for the project as a new wildlife haven.
The Thames Marshes have been included in a list of 12 Nature Improvement Areas and campaigners believe this could scupper the project.
The RSPB and Medway Council believe the airport would damage the environment.
However, supporters of the idea say the UK needs more airport capacity.
The airport would be built partly on reclaimed land and could be on either an island or a peninsula.
'Garden of England'
Rolf Williams, from the Kent branch of the RSPB, said the Thames Estuary was recognised as a site of international importance for birds.
"This is the garden of England, people come here to enjoy this environment and they spend their money here.
"We can't just continue to ride roughshod across the landscape here at the expense of the environment so important to Kent.
"That's what the Nature Improvement Area recognises."
A spokeswoman for the Department for Environment, Food and Rural Affairs said: "No decision has yet been taken about an airport in the Thames Estuary.
"Despite the area being subject to development pressures there is a good track record of managing these impacts on the natural environment."