Medway 'has second-worst asbestos death rate in country'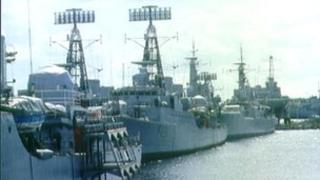 The Medway towns have the second highest death rate from an asbestos-related cancer in England and Wales, a report has shown.
A total of 104 people died from mesothelioma in Medway between 2006 and 2010, according to the Association of Personal Injury Lawyers (APIL).
The area, which includes Chatham dockyard, had a death rate of 6.5 per 100,000 people over the period.
Chatham MP Tracey Crouch has called for urgent action.
The national average was 2.5 deaths per 100,000.
With a figure of 8.4 per 100,000, Barrow in Furness, Cumbria, had the highest death rate in England and Wales.
APIL, which describes itself as a not-for-profit campaign group, but whose members also help ill and injured people fight for compensation, said the data illustrated the need for a central compensation fund.
And it warned the figures would continue to rise in the next few years.
Spike in claims
"What is needed is for the government to bring forward proposals for a fund of last resort which would act as a safety net for injured workers who are otherwise unable to pursue the justice they deserve," said president David Bott.
Ms Crouch is supporting the call and plans to raise the issue in Parliament.
She said: "We are going to see a spike in claims over the next five years. It's important, therefore, that we do give victims and their families that financial security."
Mesothelioma is a cancer predominantly of the lung wall, usually caused by exposure to asbestos.
The risk increases with length of exposure and is far more common in men than women.
Industries in which prolonged exposure to asbestos was commonplace, according to Cancer Research UK, include shipbuilding, construction, power stations, telephone exchanges and car-making.
APIL said the death rate was likely to continue to increase for a few years, reflecting the high use of asbestos in industry between World War II and the mid-1970s.
It said sufferers often needed specialist help to fight for compensation because symptoms may not develop until after the person has retired or left and the employer cannot be traced.