Banned novelty lighters found on sale across Medway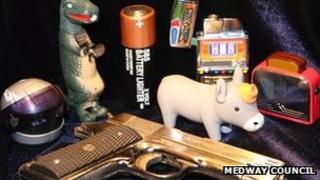 Retailers in Medway have been warned against selling novelty lighters which look like children's toys after several were found at shops and market stalls.
The lighters can resemble cartoon characters, guns, toys, vehicles, or animals, with some of them playing music or having flashing lights.
Medway Council's trading standards said they were banned in 2007 but officers had recently found them back on sale.
It warned that retailers found selling them could face a criminal prosecution.
Councillor Mike O'Brien said many of them could be attractive to young children who would naturally pick them up and play with them.
"They could result in a nasty burn or, more alarmingly, once a child has learnt how to use a lighter they could easily be used to set alight any inflammable items found in a home," he said .