Footballer Mark McCammon launches race discrimination claim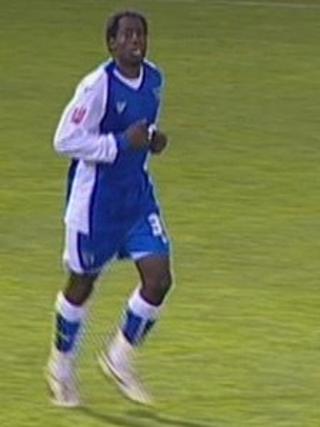 A black footballer is bringing a claim for race discrimination against a football club.
Mark McCammon, 33, claims he and other black players at Gillingham Football Club were treated differently from white players.
The player said: "I'm hopeful that truth will prevail but I can't comment any further at this stage."
A spokesman for Gillingham said: "The allegations made by Mark McCammon are wholly rejected by the club."
"It would not be appropriate for the club to comment further until the employment tribunal hearing has taken place."
Mr McCammon is bringing a claim for race discrimination and unfair dismissal against his former club and its chairman, Paul Scally.
The Barbados international forward, who is currently with Conference team Braintree Town, signed a three-year contract with League Two club Gillingham in 2008 and was released three seasons later.
The case is expected to be heard at an employment tribunal in Ashford this summer.