Emergency food for former Thamesteel workers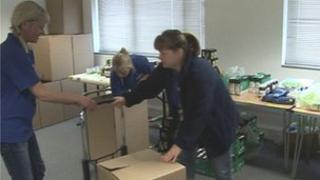 Emergency food supplies are being given to people who were made redundant when a steelworks on the Isle of Sheppey in Kent closed.
Thamesteel, which employed 400 people, went into administration in January.
The Seashells Children and Families Centre in Sheerness is handing out the boxes which are designed to feed a family of four for five days.
The Community Union, which represents former Thamesteel staff, said they had not been paid since 23 December.
Community Union branch president Tom Butler said: "Some of the guys have been told they'll be getting some of their redundancy packages next week and the rest will follow the week after."
The food boxes are being paid for by a £10,000 hardship fund which was set up to support former Thamesteel workers and their families.
Fifty boxes of food have been handed out in the last week and another 30 are ready for collection.
'Feeling awkward'
Steve Chevis, Outreach Co-ordinator at the Seashells Children and Families Centre, said: "We've had quite a strong demand for them.
"It's all basic, non-perishable food so there's pasta, there's rice, tins of meat, rice pudding."
Mr Chevis said there had been "a lot of thankfulness and a lot of gratitude" from the recipients of the food boxes.
"Some of the guys feel awkward coming in and having to accept charity. We're not viewing it as a charity thing, it's about supporting each other," he said.
Mr Chevis said the centre had never handed out food boxes on this scale before.