New Pembury hospital warned over patient care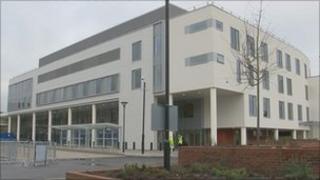 Patients experienced significant delays and wards were understaffed at a recently opened Kent hospital, a health watchdog has found.
The Care Quality Commission (CQC) has issued two warning notices to the Tunbridge Wells Hospital at Pembury following an unannounced inspection.
Inspectors said the £230m hospital was in breach of two of the government's essential standards.
The hospital has apologised and said improvements have been made.
The report said: "Inspectors were concerned that the trust was not taking appropriate steps to make sure that people experienced safe and appropriate care that met their needs."
Lack of beds
It highlighted staffing problems in both the minor injury unit, where staff had been transferred to the major injury unit.
The report found this unit was also understaffed.
CQC inspectors found during their inspection that, although no major incidents had been assigned to the new hospital, there were significant delays and ambulance crews were waiting in a corridor, unable to transfer patients due to a lack of beds.
Ian Biggs from the CQC, said: "It was clear from our inspection that patients visiting the Accident and Emergency department at the hospital had to wait far too long for attention."
Maidstone and Tunbridge Wells NHS Trust said it had made immediate changes to improve patient care to help the hospital respond faster to peaks in demand for A&E services.
The trust said more doctors and nurses were now called in automatically if the number of patients arriving at A&E exceeded pre-determined levels.
Dr Paul Sigston said: "Some of our systems were not as robust as they are now, however, and we apologise to any of our patients who previously waited longer than absolutely necessary to complete all of their care."
'Get a grip'
Mr Biggs added: "Providers have a duty to make sure that the care and treatment they deliver meets the essential standards.
"This warning sends a clear message that the issues at the Tunbridge Wells Hospital at Pembury need to be addressed as a matter of priority."
CQC inspectors have given the hospital until 1 March to meet the required standards.
"If we find that the trust is not making the required progress we will consider further use of our enforcement powers to protect the people who depend on this service," said Mr Biggs.
The Conservative MP for Tunbridge Wells Greg Clark said the findings were "disappointing and unacceptable".
"The management needs to get a grip and we need to have the standard of organisation that matches the standard of facilities we've got there," he said.