Inquiry urged into Kent road birth defects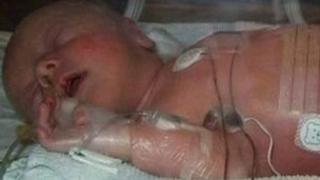 An MP has joined calls for an investigation after five babies in the same Kent street were found to have the same rare birth defect.
The babies all have gastroschisis, a condition where part of the bowel protrudes through the abdomen.
Their mothers all lived in Waterdales, Northfleet, when they became pregnant.
Adam Holloway, MP for Gravesham, said: "There is something causing this and it would be really quite good to find out what it was."
He said he believed it had previously been an industrial area. "It could be that there's contaminated stuff in the ground," he said.
However, Gravesham Borough Council said the land had not been industrial, and had been used for housing for more than 60 years.
"As far as I am aware, that land is not and was not ever contaminated," said a spokesman.
Gastroschisis occurs in approximately one in 7,000 births. A hole develops in the baby's abdominal wall while inside the womb, and part of the bowel escapes through it and continues to develop externally.
Unusually high number
The condition is treated by surgery after birth, but experts still do not know the cause, although some researchers believe the risks may increase if the mother smokes during pregnancy.
Kent health officials are now launching an investigation after the unusually high number of cases connected to the same street.
Sonia Dalton, whose daughter, Mikka, had the condition when she was born in 2009, said: "It is worrying because you think: 'Is there something that has caused it? Is it something that could be prevented?'
"We don't know if these children are going to have further problems later on in life. We don't even know if Mikka is going to be able to have children of her own."
The mothers are taking advice from specialists at King's College, London.
Meradin Peachey, Kent's director of public health, said: "We are taking this matter very seriously and I am pleased the women contacted me.
"I am meeting with the women on Monday to discuss their concerns. We will then look at starting an investigation with the Health Protection Agency into the possible reasons for this case.
"We will be carrying out an investigation and are unable to comment any further."