Thamesteel task force agrees help for redundant workers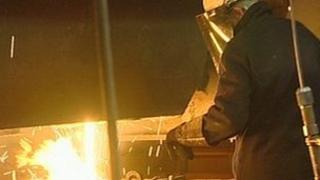 A job club and "help desk" are being set up to aid 350 steel workers who have been made redundant in Kent.
They are among a range of measures agreed by a task force set up to deal with the aftermath of the closure of the Thamesteel plant in Sheerness.
The task force was convened by Kent County Council after the firm went into administration last month.
Chairman Kevin Lynes said it would also be asking the government to speed up redundancy payments for the workers.
They could be facing a six to eight week wait, which Mr Lynes said was unacceptable.
"We would like this to be reduced as much as possible," he said.
The councillor said local employers would also be asked to take on apprentices and students who had lost their job placements at the plant to enable them to complete their qualifications.
'Best possible help'
Four hundred people were employed at Thamesteel, with only 50 being retained at the site to keep it working while administrators seek a buyer.
The task force, which comprises local bodies and government agencies, held its first meeting on Tuesday.
Mr Lynes said: "We are all working together to look at both short term, immediate actions to provide assistance to those people who have been hit by the closure and longer term ideas to help secure a future for the site.
"By meeting as a task force we can make sure the workers get the best possible help as soon as possible.
"We are able to look at the support each of us can provide and make sure the workers get access to the help they need in the quickest, most efficient way."
Regional representative for the Community union, Ryan Slaughter, said: "I am optimistic that the task force can help support the workers with their immediate needs, such as helping them access funds so that they can put food on the table."