Iraq veteran Col Tim Collins: Kent police job 'part-time'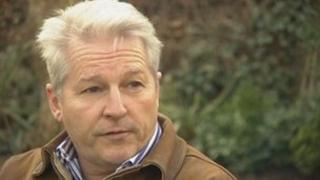 Former Army officer Colonel Tim Collins, who wants to become Kent's police and crime commissioner, has said he would only need to work part-time.
Eleven people are standing for election for the post, which will replace the county's police authority this year.
Col Collins said he did not see there was full-time work in the role.
The Kent Police Federation said it was "nonsense" to say the role, currently filled by 16 police authority members, could be carried out part-time.
'Great policing team'
Col Collins became known for a stirring eve-of-battle speech to his troops in the Iraq War in 2003.
The 51-year-old, whose availability for the role is limited by existing work commitments, said: "It would be a part-time role for me. I don't see there's full time work in it.
"Now others might see that differently - those that are desperate for work - but the reality is that we've got a very effective chief constable who has got a great team around him. They can do the policing.
"I think what we need is someone to listen to the public and interface with them."
'A big role'
Kent Police Federation chairman Ian Pointon said: "We've currently got a police authority that comprises 16 people, who provide the governors for Kent Police.
"I think to suggest that one person can do that on a part-time basis is nonsense.
"It's a full-time job and if he wants the job he should be prepared to commit to that full-time."
Policing Minister and Conservative MP Nick Herbert said: "There isn't a legal requirement that there should be a full-time job.
"We had always started from a point that they are, because it's a big role, but it will be up to local figures to say how they want to go about it."
Police and crime commissioners will be elected in every police force area of England and Wales in polls on 15 November.
The elected commissioners will replace police authorities a week later.