CPRE Protect Kent in green belt fear over Thames crossing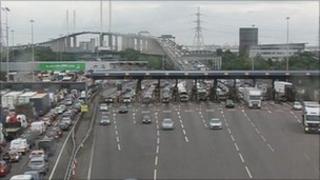 Environmental campaigners are stepping up their protest against a new Thames Crossing saying it would be devastating for Kent if allowed to go ahead.
Kent County Council wants to build a new bridge linking Gravesend and Tilbury in Essex to help ease the pressure at the Dartford Crossing.
It said benefits would include 6,000 jobs and a boost to the local economy.
Officially launching its opposition, CPRE Protect Kent said it would damage green belt and destroy local villages.
Spokesman Andrew Ogden said it believed there was "a lot of work to be done to prove a need for a third crossing at Dartford or anywhere down on the lower reaches of the Thames".
'Worst option'
He added that other "traffic management issues" had to be addressed first, which included the need for tolls at the Dartford Crossing.
"I think there is a certain weight behind building a third crossing purely because of the construction industry benefits that would ensue from that," he said.
Mr Ogden added: "If there's got to be a crossing, possibly the worst option would be the east of Gravesend option.
"The approach roads would quite clearly have to go through open countryside and green belt."
Kent County Council has maintained that an urgent solution needs to be found to the problems faced by motorists using the Dartford Crossing, which links the M25 between Essex and Kent.
It has said the new crossing should be built to the east of Gravesend because of the potential to regenerate the area.
The final decision will be taken by the roads minister, Mike Penning.