Thamesteel task force discusses 'the way forward'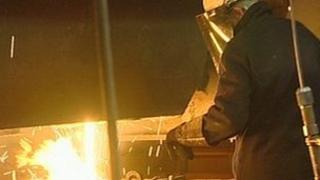 A task force set up to deal with the aftermath of the closure of the Thamesteel plant on the Isle of Sheppey is to meet for the first time.
The group was convened by Kent County Council after the company announced it had gone into administration.
Of the 400 people employed at the site in Sheerness, 350 have lost their jobs.
The task force will look at how to support workers and liaise with administrators to secure the future of the steelworks.
It is chaired by Councillor Kevin Lynes, cabinet member for regeneration and economic development, who described the company's demise as "terrible news and very difficult for the workers, their families and the local economy".
He added: "Since the announcement was made by the administrators, we have been working together with Swale Borough Council in talking to government and all the key agencies about the situation.
"This is why we have convened a task force to look at the way forward and we have invited all relevant parties to the meeting, including the local MP, to receive an update on the situation."
Fifty workers have been retained at the site to keep it in working order while administrators seek a buyer.