Kent celebrates anniversary of Charles Dickens' birth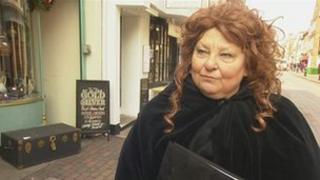 A series of commemorative events have taken place across Kent to mark the 200th anniversary of the birth of Charles Dickens.
Dickens grew up in Chatham and died at his home in Higham, near Rochester.
A wreath-laying ceremony attended by the Prince of Wales took place at his grave in Poets' Corner in Westminster Abbey, London.
And across Kent there have been readings, exhibitions and various tours to celebrate his bi-centenary.
Dickens was incredibly fond of Kent and his stories regularly feature its landscapes and characters.
The Rochester and Chatham Dickens' Fellowship organised a series of recitations from his novels in the churchyard of St Mary's Church, Chatham.
'Everything here'
Guided tours took place around Rochester, focusing on locations Dickens used in his novels.
Sandy Digby, who played the character Nancy from Oliver Twist during the tour, said: "I think the fact that there's actually 13 locations that he wrote about in Rochester, plus the chalet where he wrote his last words - people don't realise what a wealth there is in Rochester.
And fellow guide Isabelle Milone said: "There's everything here almost intact. The more you look around the more you find.
"You have the impression that you live in the 19th century and you could believe you're actually in his steps."
An exhibition, Dickens' Childhood Years in Chatham and Rochester, also opened to visitors in Eastgate House, Rochester.