Heavy snow closes key Kent routes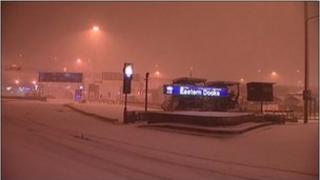 Heavy snowfall across Kent overnight led to disruption on the rail network and road closures on key routes.
The A20 and Jubilee Way out of Dover were closed but were passable later. Port passengers were advised to check with ferry operators before travelling.
The M25 and M26 were disrupted during the morning. The M20 and M2 were "passable with care", Kent Police said.
Southeastern rail operator warned of disruption and cancelled services.
Network Rail reported a very limited service across Kent, with no service on the Ramsgate and Canterbury lines and no trains are running between Faversham and Dover.
It also advised rail passengers to check with their operators before travelling.
Police said Eurotunnel and ferry operators were operating a full service.
Restrictions in France
Across the Channel, the French authorities imposed vehicle restrictions in the north of France.
In France, HGVs and freight vehicles over 7.5 tonnes and coaches could not use the A16 and A216 and were asked to use the A26, but there were no restrictions on cars.
Police advised people to be prepared and take great care.
Drivers who had to abandon vehicles were urged to try to ensure they were not causing an obstruction.
A spokesman said: "Heavy snow and freezing temperatures are expected to affect the county for several days so please check the weather forecast and road conditions before you travel."
On routes across Kent, the Sheppey Bridge, the A249 Detling Hill and the A229 Bluebell Hill were all passable with care, Kent Police said.
The A299 Thanet Way was passable but had drifting snow, a fallen tree had been cleared from the A274 near Langley, and Vicarage Lane in Elham was closed both ways due to ice.
By about 16:00 GMT, most major roads were passable, Kent Police added.
Kent and Medway councils said they had gritting fleets out throughout the night and in the run-up to the severe weather to minimise disruption.
Lifeboat faced 'blizzard'
Some customers who were on the 22:40 GMT service from London to Ramsgate on Saturday complained they ended up stuck on a stranded train in severe weather with no information from the operator, Southeastern.
The train was halted between Charing Cross and Waterloo East.
Sarah Boundy, a spokeswoman for Southeastern, said the actions of some passengers who got off the train and walked along the tracks, added to the delays.
She said: "It's always frustrating and difficult when your train is delayed.
"Certainly we can appreciate that when you think 'I'm very near a station I could walk there', people may feel that the risk is worth taking.
"We can absolutely tell you it certainly is not worth taking. The trains run using electrical power. You can be killed by the voltage in the conductor rail and also it means that many many more people are delayed because we have to completely shut down the power."
During "blizzard conditions", the Sheerness lifeboat was called to help a 32ft yacht which had machinery failure, the RNLI said.
The crew battled Force 6 winds, sometimes with zero visibility due to snowfall, spokesman Barry Crayford said.
The lifeboat found the yacht with two people on board and towed it back to Queenborough.
Coxwain Robin Castle said the conditions were "horrendous, with driving, horizontal snow".