Kent and Medway gritter fleets braced for snow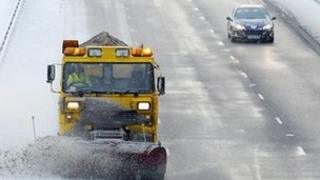 Scores of gritting vehicles took to the roads across Kent and Medway as the South East braced itself for 5-10cm (up to 4in) of snow.
Kent County Council said it had 60 salting lorries available to keep the county moving during the expected big freeze.
The lorries were being fitted with snow ploughs, with extra drivers drafted in if heavy snow fell, KCC said.
Medway Council had eight salting lorries and 4x4s to reach remote areas.
Amber warning
Forecasters said the heaviest falls were expected after dusk on Saturday.
The Met Office issued amber "be prepared" snow warnings for areas across the UK, including the South East.
In Kent, gritters have been out throughout the week to treat roads.
KCC said it had fully stocked 2,000 salt bins and provided more than 100 salt bags to parishes to help communities.
Crews were also on standby to salt areas around shopping centres, doctors' surgeries and hospitals.
KCC salts about half of its 5,000-mile road network and has more than 180 farmers contracted to clear key rural routes.
Medway Council said its teams were salting all primary and secondary routes.
The local authority advised motorists to drive carefully, allow extra time for their journeys, and ensure vehicles are in good condition before they set off.
Medway has 5,000 tonnes of salt stockpiled and 388 salt bins available for residents.