WWII radar station RAF Dunkirk is auctioned in Kent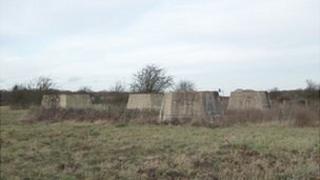 The site of a former radar station in Kent which played a role in defending Britain during WWII is to be auctioned.
RAF Dunkirk near Faversham was built in 1937 to provide early warning of bombing raids over the Thames Estuary area.
The derelict station is spread over 26 acres and is a listed Scheduled Monument.
The site is expected to fetch up to £140,000 when it is auctioned at Kent County Showground in Maidstone.
The site, near the village of Dunkirk, includes several buildings including a transmitter block, pillboxes, a radar tower base and underground transmitter room.
Kevin Gilbert, of Clive Emson Auctioneers, said: "This is the first radar station of this size we've had on our books.
"We anticipate some keen interest from people wanting to own a sizeable parcel of land to military historians."