Jeremy Clarkson turns down Sheppey tour after comments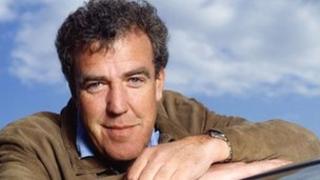 Jeremy Clarkson has turned down the offer of a personal tour of the Isle of Sheppey by its MP after the presenter suggested the island was one big caravan site.
In an issue of Top Gear magazine, he also said Kent was full of people who had travelled as refugees from Calais.
Conservative MP Gordon Henderson offered to take the him on a tour.
However, Mr Clarkson's staff told the MP he was unable to take up the offer due to filming commitments.
Mr Henderson, who is MP for Sittingbourne and Sheppey, said: "I was not disappointed with Jeremy's response as he may well take up the offer some time in the future.
"If he does, he will receive a warm welcome."
Publishers BBC Worldwide said the Mr Clarkson's original comments were "tongue-in-cheek".
'Refrigerated truck'
In the article about driving to the Isle of Sheppey in east Kent, the Top Gear host wrote: "Mostly, the Isle of Sheppey is a caravan site.
"There are thousands of thousands of mobile homes, all of which I suspect belong to former London cabbies, the only people on Earth with the knowledge to get there before it's time to turn round and come home again."
He then adds: "And what of the locals?
"Well, they tend to be the sort of people who arrived in England in the back of a refrigerated truck or clinging to the underside of a Eurostar train."
Responding at the time about complaints regarding Mr Clarkson's article, a spokesman for BBC Worldwide said: "Regular readers of his column in Top Gear magazine are well used to his irreverent, tongue-in-cheek musings on what he sees as motoring infrastructure issues around the country.
"I'd add that it's fairly safe to assume Jeremy doesn't really think that the entire population of Kent is made up of illegal immigrants."