Sir Winston Churchill's belongings on show at Chartwell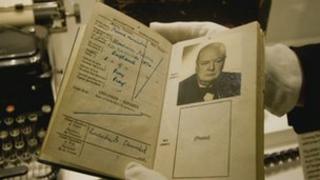 Personal items of Sir Winston Churchill have gone on public display for the first time at his former home in Kent.
A passport used when he was Prime Minister is among the items on show at Chartwell near Westerham.
The National Trust, which runs the museum, said the 40 items were being shown in the UK for the first time.
Also on display are a dictation machine he used for his speeches, a silver paint box and a hairbrush. Many of the items had been in storage.
Churchill lived in Chartwell for more than 40 years, from 1922 until his death in 1965.
'Evocative object'
The museum opened a year later, in 1966, and is comprised of two rooms.
Also on display are a diamond-encrusted sword given to Churchill by King Abdul Aziz of Saudi Arabia, a leather travelling globe and a dog bowl belonging to his pet Rufus.
Many of the items were put into storage when Lady Churchill handed Chartwell to the National Trust.
Alice Martin, the house and collections manager at Chartwell, said: "My particular favourite is Sir Winston's passport.
"I welled up when I first handled it. It's such an evocative object.
"We all have a passport but they don't list our birthplace as Blenheim Palace and occupation as Prime Minister."
The exhibition runs until November 1.