Canterbury pond body: Murder suspect arrested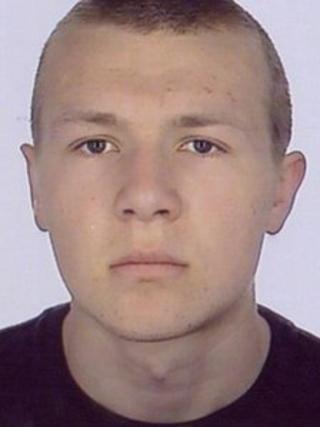 A 54-year-old man has been arrested on suspicion of murder after two bodies were recovered from a pond in Kent.
Kent Police said officers discovered the body of a young man at Reed Pond, near Tennyson Avenue, Canterbury, at about 12:00 GMT on Monday.
A second body, also a young man, was found by police divers at 21:40 GMT.
The first body is believed to be 17-year-old Hugo Wenn and the second is thought to be Daniel Lloyd, who is believed to have been aged in his 20s.
Both deaths are being treated as "unexplained pending post-mortems".
Officers are thought to have discovered Hugo's body floating in the pond, which is on land owned by the Ministry of Defence (MoD), while they carried out a missing person search for him on Monday.
'Extremely unusual'
Police divers searching the pond discovered the body of the second young man later.
The pair have not yet been formally identified. Kent Police said search and forensic teams remained at the scene.
The MoD said it did not believe the deaths were connected with nearby Howe Barracks.
Hugo was due to meet friends at a pub in Canterbury and texted at 20:00 GMT saying he was leaving.
He was seen walking along Canterbury High Street alone at about 20:30, beatboxing to himself.
Police were later alerted to his disappearance and friends set up a Facebook page urging people who knew of his whereabouts to get in touch.
George Bubb, who was a friend of Hugo, said: "It was horrible. I was sat there with my laptop [when I heard the news] and I felt really sick. Why him? The way he acted was just so nice. It's horrible."
Hugo was a pupil at Archbishop's School in Canterbury until 2011.
His former head teacher Michael Liddicoat said: "We are a very small school and there is a sense of complete shock at this loss.
Mr Liddicoat said the school was holding an assembly on Wednesday to remember Hugo Wenn and to say prayers.
He added: "In many ways, Hugo was a gentle giant who was about 6ft 3in so you couldn't miss him around school. He was fantastic with the younger students and he will be missed."
'Sleep well dude'
More than 4,000 people have joined a Facebook page set up in tribute to Hugo.
One person wrote: "RIP Hugo, you've touched so many people with your incredible beatboxing. Such a talent, all my wishes go to your family and hope you rest in peace. Sleep well dude."
Ch Insp Steve Barlow said: "It is extremely unusual to find two bodies in these circumstances, which is why clearly we are keen to investigate fully how that came to be.
"At this stage I can say to the people of the Canterbury area that we have no reason to suspect that there is any ongoing danger for local residents."
He added: "We are appealing for anyone who may have been in the immediate vicinity of Reed Pond in Canterbury between 5pm on Friday 27 January and 11am on Monday 30 January to get in contact with us if they witnessed anything unusual."
A spokesman for the Army said: "It is extremely sad news that two bodies have been discovered on the training area behind Howe Barracks in Canterbury.
"This piece of land is owned by Defence Estates and, while occasionally used by the Army, is open to the public.
"It is not thought that the deaths were in any way connected with HM Armed Forces.
"Our thoughts are with the friends and families of the deceased."