New passenger ferry Spirit of France sails into Dover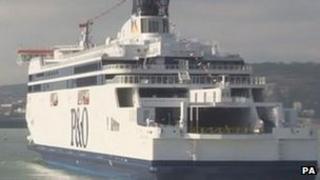 A new passenger ferry has sailed into Dover for the first time.
The Spirit of France can hold up to 2,000 passengers and will serve the Dover to Calais route from next month.
The 47,000-tonne ferry, which cost £150m to build, has been handed over to P&O Ferries from the STX Europe shipyard in Rauma, Finland.
Along with its sister ship Spirit of Britain, which entered service last year, the ferry is the largest to have been built for the Dover Strait.
Helen Deeble, chief executive of P&O Ferries, said the project was the company's largest investment.
"This investment gives us the finest cross-Channel ferries ever commissioned for the Dover Strait and is a bold statement of our determination to continue to raise the bar in terms of the quality and comfort of ferry travel," she said.